1)Filling Station:
5 Head filling machine shall be designed for filling Mango Juice 200ml in PET Bottles.
Design:
• The filling machine will be operated automatic type with 6 heads preferably with elevated type Bottle holding to facilitate filling of bottle without any spillage upto its desired neck limit.
All the working parts of the machine coming in contact with the product are S.S.304 (filling cylinder & nozzle).
Conveyor had inlet & outlet ends of the machine variable speed to synchronize with the • filling machine speed. The conveyor tailing width is adjustable. Casing of the machine of S.S.304
• Filling accuracy for various volumes within range of ± 1 % on volume
• Filling head height will be adjustable.
• Conveyor Motor ½ HP. (Hindustan) with suitable Gear box of Bonfiglioli
• 5 head speed will be 30 bottles per minute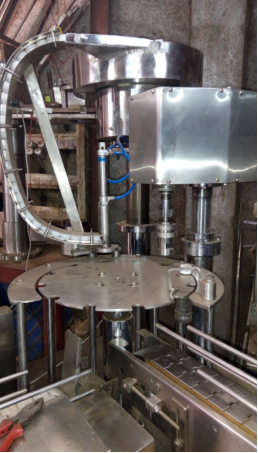 Automatic Single Head Screw Capping Machine
Description:-
Veena Pharma Automatic Single Head Screw Capping Machine is versatile, self-supported on stainless steel leg with height adjustable system. The machine is precision built on sturdy welded Mild steel frame completely enclose in stainless steel and doors are provided to facilitate the servicing of machine.

Operation:-
The feed PET Bottle moving on conveyor belt are fed into an in-feed star wheel, bringing the bottle below the sealing head in the subsequent indexing part, mean while the rotating bottle pickup a cap from the cap star wheel which is received from delivery chute of cap feeding bowl, where the body and the neck of the container are positioned below the rotating head, here the sealing head performs perfect operation of sealing, rotating head is designed to seal container according to pre-set-torque.
Direction of Movement
Left to Right
No. of Sealing Head
1 No
Electrical Main Motor
1 HP / 415 Volts / 50 Hz.
Specification
Cap Feeding Bowl 300 Watt.
Height of Conveyor
860 mm to 910 mm
Change parts if cap and bottle size differ
(A)Container: Star wheel,Back Guide
(B)Cap die,Delivery chute & Cap feeder Bowl



Input specification
Screw Cap Specification
Diameter
25 mm to 35 mm***
Height
15 to 30 mm
• ☆ Depends on bottle size, cap size and type of cap.
• ☆☆ We can supply as per customer requirements.
• ☆☆☆ With the help of change parts.
• Speed 10 per minute.

Salient Features:
• No container No cap arrangement.
• Single motor synchronizes conveyor, star wheel & platform turret
• Adjustable height of conveyor belt.
• All contact parts are made out of stainless steel.
• Torque adjustable Low noise level, low power consumption.

Utility requirement:

| Electric supply | 3 Phase + Neutral + Earthing |
| --- | --- |
| Electrical Load | 1.5 Kw |
| Air Pressure | Minimum 6 Bar, 0.5 CFM |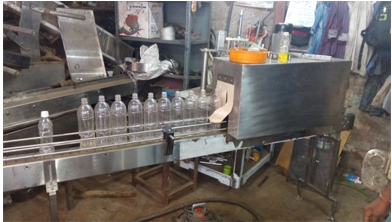 Salient Features of the Equipments
• Easy to operate.
• Virtually low maintenance.
• Low Power Consumption.
• Electronic Digital Temperature Controller.
• High efficiency heaters.
• Suitable for PVC & LDPE films.
• Separate Key System Door.
• Fixed / Variable Conveyer Speed.

Technical Specification of the Equipments
• Machine Dimension: 100 mm (L) x 350 mm (W) x 1200 mm (H)
• Counter (Window) Size: 3 inch(w) x 10 inch (H)
• MOC of Machine: Machine will be fabricated in CRC sheet in 16 gauges for outer cover with suitable angle and powder coated body whereas inner surface of tunnel will be in SS 304 16 guage.
• Conveyor: Slat conveyor in continuous after capping machine
• Heaters: 4 K.W S.S. Tube type heater with fine Digital Temperature controller with sensor to control the chamber temperature
• Output Speed: 20 to 40 Products Per Minute (Depending up on the size of the Products) Conveyor Speed: Fixed
• Temperature: 70° to 200°
• Material: PVC / LDPE
• Power Load: Single Phase, + Neutral, 4 KW, 440 V.